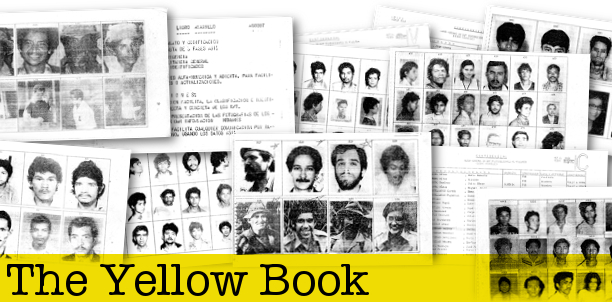 The "Yellow Book," a 1980s-era document from the archives of El Salvador's military intelligence, identifies almost two thousand Salvadoran citizens who were considered "delinquent terrorists" by the Armed Forces, among them current President Salvador Sánchez Cerén, a former guerrilla leader. Other individuals listed include human rights advocates, labor leaders, and political figures, many known to have been victims of illegal detention, torture, extrajudicial execution, forced disappearance, and other human rights abuses.
On September 28th, in recognition of International Right to Know Day, the Yellow Book was published in its entirety through a collaboration between the National Security Archive, the University of Washington Center for Human Rights and the Human Rights Data Analysis Group. Read the Yellow Book…
Our Mission
Unfinished Sentences is an initiative of the University of Washington Center for Human Rights to encourage public participation in support of human rights in El Salvador. Through this effort, we aim to document and share the stories of survivors of crimes against humanity committed in the context of El Salvador's armed conflict, and to support Salvadoran efforts for truth and accountability.